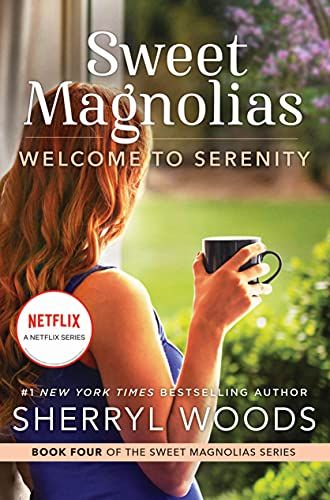 Sweet Magnolias #4
March 29, 2022
MIRA Books
Available in: Paperback, Trade Paperback, e-Book, Audio (reprint)
Welcome to Serenity
The Sweet Magnolias legacy continues for a new generation of women in Welcome to Serenity. Now a Netflix original series!
When Jeanette Brioche helped launch The Corner Spa in Serenity, South Carolina, she found a whole lot more than professional satisfaction. She discovered the deep and loyal friendships that had been missing from her life. But even the Sweet Magnolias can't mend the terrible rift between Jeanette and her family.
Pushed into working on the town's much-loved annual Christmas festival, Jeanette teams up with the new town manager, Tom McDonald, who may be the only person in Serenity who's less enthused about family and the holidays than she is.
But with decorations going up in the town square and a bit of romance in the air, Jeanette and Tom take a fresh look at the past and a hopeful look into the future. Together they discover that this may be the season of miracles after all…
Originally published November 2008 in mass market paperback, January 2010 in mass market paperback and eBook, December 2015 in trade paperback and February 2021 in mass market paperback and eBook.