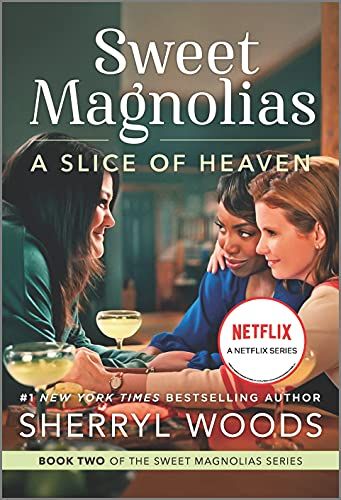 Sweet Magnolias #2
January 25, 2022
MIRA Books
Available in: Paperback, Trade Paperback, Audio, e-Book (reprint)
A Slice of Heaven
Return to the world of the Sweet Magnolias, where friends are closer than family, and fun and scandal are always part of the mix. Now a Netflix original series!
Ever since she discovered her ex-husband's affair, Dana Sue Sullivan decided to put down new roots and create the best restaurant in Serenity, South Carolina. After years of hard labor, her dream has become a reality. Sullivan's provides more than just Southern comfort food—it's become a haven for the whole town—and Dana Sue knows better than anyone that relying on friendship can get you through the toughest times.
But when her teenage daughter, Annie, develops an eating disorder that lands her in the hospital, Dana Sue's perfect life comes crumbling down. On top of it all, her own health starts to deteriorate. Dana Sue knows she needs to change habits now to help them both get better—even if that means letting Ronnie Sullivan back into their lives.
And who knows, his return might end up being a recipe for a new beginning…
© Netflix 2022. Used with permission.
Originally published February 2017 in mass market paperback, July 2010 in mass market paperback & eBook, February 2015 in trade paperback, June 2020 in mass market paperback & eBook and February 2021 in mass market paperback.