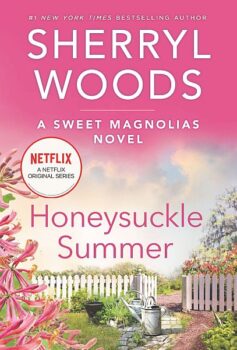 Sweet Magnolias #7
January 8, 2019
MIRA Books
Available in: Paperback, Audio, e-Book, Trade Size (reprint)
Honeysuckle Summer
Her devastating marriage behind her, Raylene Hammond is truly thankful for her best friends, the Sweet Magnolias. They've taken her in, shielding her from the world. Then she meets sheriff's deputy Carter Rollins, and suddenly Raylene's haven no longer feels quite so safe.
Carter understands why Raylene is trapped inside. He's even taken to bringing the outside world to her. But with two kid sisters to raise, just how much time can he devote to this woman who's stolen his heart?
Raylene knows Carter is a man worth loving, but she may never be strong enough to accept what he's offering. How long can she ask him to wait? Maybe they'll never have more than this one sweet summer.
Originally published June 2010 in mass market paperback and June 2012 in eBook.