About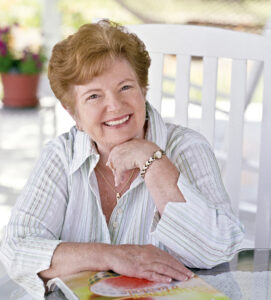 For a woman who generally speaking hates change, Sherryl Woods has changed careers multiple times in her lifetime. Her life has come full circle from covering the television industry for several newspapers early on to having two of her book series — Chesapeake Shores and Sweet Magnolias — become hit television series on Hallmark Channel and Netflix respectively.
Throughout those exciting transitions, she's lived in four states, happily collecting friends and memories, along with way too much unnecessary junk.
"The friends are the only things I've brought with me through the years that really matter," she says. "I could probably live without one more chintz teacup, another tin-litho sandpail or another snowglobe, but I need those friends."
Author of nearly 150 romance and mystery novels, Sherryl grew up in Virginia. Over the years she has lived in Ohio and Florida, as well as California. Currently she divides her time between Jacksonville Beach, Florida and Colonial Beach, Virginia, the small, river-front town where she spent her childhood summers. That town provided the inspiration for the small-town settings of many of her books.
Her first book, RESTORING LOVE, was published in 1982 by Dell Candlelight Ecstasy under the pseudonym of Suzanne Sherrill. Her second book, SAND CASTLES, under the pseudonym of Alexandra Kirk, was published later that same year by Bantam. She began using her own name when she moved to the Second Chance at Love line at Berkley Publishing. In 1986, she began writing full-time and also began her long career at Silhouette Books with the Desire title NOT AT EIGHT, DARLING, set in the world of television which she covered for so many years.
In addition to her more than 100 romances for Silhouette Desire, Silhouette Special Edition and MIRA Books, she has written thirteen mysteries — nine in the Amanda Roberts series and four in the Molly DeWitt series.
When she's not writing or reading, Sherryl loves to garden, though she's not at her best on a riding lawn mower. She also loves tennis, theater, and ballet, even though her top spin has long since vanished, she's never set foot on a stage, and she's way too uncoordinated to dance. She also loves baseball and claims anyone who's ever seen Kevin Costner in "Bull Durham" can understand why.