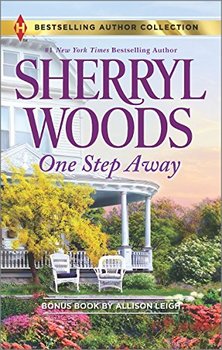 Bestselling Author Collection
November 30, 2015
Harlequin
ISBN-10: 0373010184
ISBN-13: 9780373010189
Available in: Paperback (reprint)
One Step Away
ONE STEP FORWARD…
In Berry Ridge, Vermont, Beth Callahan had found a place to start over. She'd started a successful real estate and design business in the quaint, picturesque town, and she'd even found her perfect house…where she dreamed of someday living and raising a family. Until a reckless bachelor bought it out from under her.
TWO STEPS BACK
Ken Hutchinson loved the charming Victorian on sight, and once he got the town's best designer to make it his, it would be perfect. But Beth Callahan seemed to disapprove of everything he wanted to do with the house—and of him. Ken wasn't sure why Beth's opinion was suddenly the only thing that mattered, but one thing he was sure of was that only Beth could make the house a home…for both of them.
BONUS BOOK INCLUDED IN THIS VOLUME!
Once Upon a Proposal by New York Times bestselling author Allison Leigh (originally published November 2010 in Silhouette Special Edition #2078)
Gabriel Gannon only needed Bobbie Fairchild to pretend to be his fiancée…but she certainly wouldn't have to pretend she was attracted to the sexy businessman. And that was the problem…
One Step Away was originally published December 1994 in Silhouette Special Editon #927.