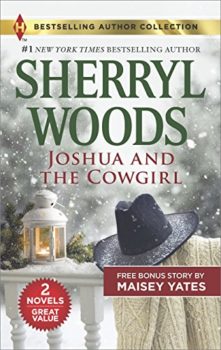 Bestselling Author Collection
November 27, 2018
Harlequin (Bestselling Author Collection)
Available in: Paperback, e-Book (reprint)
Joshua and the Cowgirl
WINTER IN WYOMING
Financial wizard Joshua Ames was used to living in luxury. The globe-trotting pace he lived didn't include cows. Yet here he was, back on a sprawling ranch deep in snowy cattle country, confronted with the one woman he hadn't been able to forget—a mischievous, irresistible cowgirl who both maddened and enticed him. But when love and commitment were involved, she was as stubborn as they came.
For Traci Garrett, it was lust—plain and simple. Still, the fiercely independent single mother knew from past experience just how dangerous unbridled passion could be. But that was before this outrageously attractive city slicker lassoed her wild, wary heart…
FREE BONUS STORY INCLUDED IN THIS VOLUME: Seduce Me, Cowboy by New York Times bestselling author Maisey Yates (originally published March 2017 in Harlequin Desire #2503 in mass market paperbck and eBook)
Joshua and the Cowgirl was originally published November 1991 in Silhouett Special Editiion #713 and reissued February 1998 and August 2004 by Silhouette.