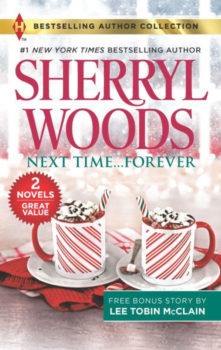 Bestselling Author Collection
October 29, 2019
Harlequin (Bestselling Author Collection)
Available in: Paperback, e-Book (reprint)
Next Time…Forever
BESTSELLING AUTHOR COLLECTION
Reader-favorite romances in collectible volumes from our bestselling authors.
REUNITED AT LAST
Recently divorced and ready to move on, Catherine Devlin didn't expect to find love in a small restaurant in Savannah. Dillon Westin, a sexy businessman, charms her instantly. But Dillon is only passing through town, and since she's still nursing her heartbreak, Catherine needs to take their budding romance slow. They have busy lives and live in different cities—so they part ways with a soul-shattering kiss…and a promise to meet again in one year.
They keep their promise—but their differences threaten to tear them apart. As the holidays approach, Catherine can't help but miss Dillon, so she follows him to New York City. But will the magic of Christmas make everything all right? Catherine can't help but wonder if "next time" will ever mean "forever."
FREE BONUS STORY INCLUDED IN THIS VOLUME: Secret Christmas Twins by Lee Tobin McClain (originally published November 2017 in Love Inspired #1099 in mass market paperback and eBook)
Next Time…Forever was originally published October 1990 in Silhouette Desire #601 in mass market paperback.