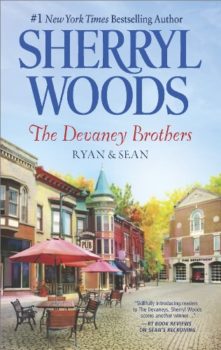 The Devaneys Books 1 & 2
March 25, 2014
MIRA Books
Available in: Paperback, e-Book
The Devaney Brothers: Ryan & Sean
#1 New York Times bestselling author Sherryl Woods brings readers two classic tales of the Devaneys…brothers torn apart in childhood, reunited by love
Ryan's Place (originally published September 2002 in Silhouette Special Edition #1489)
Abandoned by his parents and separated from his brothers, Ryan Devaney doesn't believe in love. Until Maggie O'Brien storms into his Irish pub and her bright smile and tender touch have him reconsidering. The beautiful redhead warms his frozen spirit and awakens forgotten dreams—like the desire to search for his long-lost brothers. Will he dare to believe there's a place for them in happily-ever-after?
Sean's Reckoning (originally published October 2002 in Silhouette Special Edition #1495)
Son of a shattered family, fireman Sean Devaney knows love never lasts, so he refuses to chance it. Then he meets single mom Deanna Blackwell, who has just lost everything in a devastating fire. Despite the warning in Sean's head, he's drawn to protect the stunning woman and her son. Sean may be tough enough to storm burning buildings…but is he brave enough to risk building a family of his own?
Can also be purchased in eBook format.