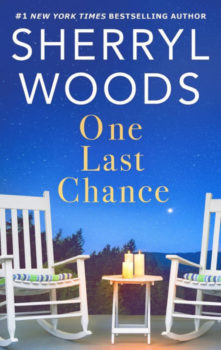 The Calamity Janes #2
February 11, 2019
MIRA Books
Available in: e-Book (reprint)
One Last Chance
Five women…five dreams…a lifetime of friendship…revisit the beloved stories of the Calamity Janes by #1 New York Times bestseller Sherryl Woods!
ONE LAST CHANCE
Karen Hanson's oldest friends, the Calamity Janes, urged her to sell her struggling ranch and pursue her lifelong dreams of travel. But the only bidder for her land was brooding, enigmatic Grady Blackhawk — her late husband's worst enemy. How could she sell the land to him?
Then Grady set out to prove that he wasn't the scoundrel Karen thought him. Spending time with him might cost Karen a lot more than her ranch because Mr. Blackhawk was becoming less interested in claiming her land…and more intent on claiming her heart.
Originally published August 2001 as Courting the Enemy in Silhouette Special Edition #1411 in mass market paperback and May 2015 in The Calamity Janes: Cassie & Karen in mass market paperback and eBook.