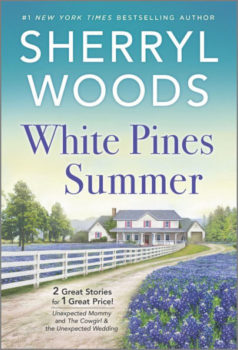 Adams Dynasty Books 7 & 8
March 24, 2020
MIRA Books
Available in: Paperback, e-Book
White Pines Summer
The best laid plans become happy surprises for two rugged Texas ranchers!
Unexpected Mommy
(originally published May 1998 in Silhouette Special Edition #1171 in mass market paperback)
Single father Chance Adams will do anything to get back his share of the family ranch—even if it means charming his uncle's ornery stepdaughter, schoolteacher Jenny Adams. But he isn't prepared to fall in love…
Jenny always dreamed of finding the perfect man, but Chance, with his hellion, if lovable, son and his unbending grudge against her family, doesn't exactly fit the picture. She knows he has a one-track mind—but is it just her imagination, or is he starting to feel something more?
The Cowgirl & The Unexpected Wedding
(originally published November 1998 in Silhouette Special Edition #1208 in mass market paperback)
Lizzy Adams had long since stolen rancher Hank Robbins's heart. And then one night, passion overcame common sense and left them both with more than just wonderful memories—there's a baby on the way. Both are determined to "do the right thing." For Lizzy, that means not roping the rugged rancher into marriage. But Hank has other plans…