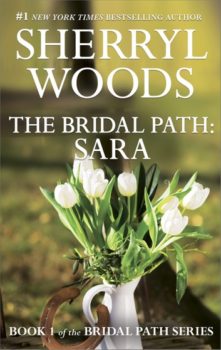 The Bridal Path #1
September 16, 2014
MIRA Books
Available in: Audio, e-Book (reprint)
The Bridal Path: Sara
When Sara Wilde's father sold the family ranch to rodeo rogue Jake Dawson, she was fit to be tied! Now Sara had to get Three-Stars back—whatever the cost. So she challenged Jake to a bucking bronco contest. If she lost, she agreed to be his bride…
Jake knew Sara didn't stand a chance at winning their wager. But he sure admired her determination. Sparring with the feisty, sultry Sara was the most fun he'd had in ages! Now Jake was even more determined to win the contest…and Sara's hand!
Watch as three sisters fall in love with the men of their dreams and walk down THE BRIDAL PATH.
Originally published February 1997 as A RANCH FOR SARA in Silhouette Special Edition #1083 in mass market paperback.