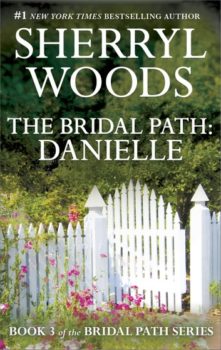 The Bridal Path #3
September 16, 2014
MIRA Books
Available in: Audio, e-Book (reprint)
The Bridal Path: Danielle
THOSE WATKINS BOYS! THAT WILDE WOMAN!
When handsome single dad Slade Watkins came to town, all Riverton wagered that a wedding was in the offing. The hapless widower hadn't a clue about taming his two rambunctious sons—until pretty Danielle Wilde took the motherless mischief-makers under her wing. A born nurturer, Dani clearly hankered to call the Watkins clan her own. Unfortunately, sexy Slade had vowed never, ever to rewed. Still, the townsfolk knew: once a Wilde woman put her mind to marriage …a man could kiss his bachelorhood goodbye!
Watch as three sisters fall in love with the men of their dreams and walk down THE BRIDAL PATH.
Originally published April 1997 as DANIELLE'S DADDY FACTOR in Silhouette Special Edition #1094 in mass market paperback.