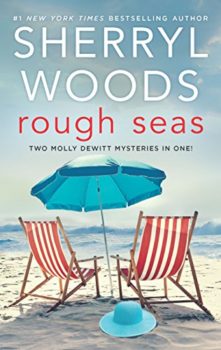 Molly DeWitt Mysteries Books 3 & 4
September 25, 2018
MIRA Books
Available in: Paperback, e-Book
Rough Seas
Join debutante-gone-detective Molly DeWitt as she finds herself in hot water in these two timeless mysteries from #1 New York Times bestselling author Sherryl Woods.
Hot Money
(originally published July 1993 in mass market paperback by Dell)
The Save the Environment gala has Molly DeWitt and dashing detective Michael O'Hara swimming with society sharks when Molly hooks the most endangered species of all: the late chairwoman of the affair. Tessa was no saint, and the rich shed crocodile tears for the departed philanthropist. Now the question Molly needs to answer isn't who wanted Tessa dead, but who killed her—and why.
Hot Schemes
(originally published August 1994 in mass market paperback by Dell)
When Michael O'Hara's favorite uncle's boat floats into the Miami docks wired to explode, Molly DeWitt is horrified when Michael leaps aboard and speeds away from the gawking crowd. Singed by his narrow escape, Michael is burning to discover the truth. Is Uncle Miguel dead? Molly and Michael search for clues, but find themselves point-blank in the cross hairs of terror—