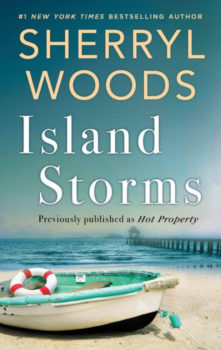 Molly DeWitt Mysteries #1
October 14, 2019
MIRA Books
Available in: e-Book
Island Storms
Originally published as Hot Property in the 1992, the first installment of the Molly DeWitt Mysteries by #1 New York Times Bestselling Author Sherryl Woods is an engaging fan favorite that you don't want to miss!
Finding a corpse in the card room of her elegant new Key Biscayne apartment complex was not what Molly DeWitt had in mind for a fresh new start—especially when the knife in the dead Ocean Manor's president's back appears to be her own. But when charming homicide detective Michael O'Hara decides to get on her case, it's up to Molly to track down the real killer and clear her name.
Originqlly published March 1992 as Hot Property in mass market paperback from Dell and September 2018 as Hot Property in 2-in-1 anthology Tropical Blues in mass market paperback by MIRA.