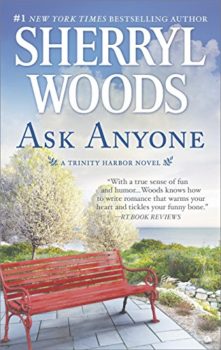 Trinity Harbor #2
February 1, 2009
MIRA Books
Available in: Paperback, Audio, e-Book (reprint)
Ask Anyone
Once again, the Spencers will be the talk of Trinity Harbor…
A merry go-round horse and an armed guard in his front yard—along with half the town—is not what Bobby Spencer wants to wake up to. So with his quiet Sunday morning ruined, he isn't feeling very kindly toward the woman responsible.
But Jenna Pennington Kennedy is desperate. She needs to capture Bobby's attention so he'll hire her to plan the town's new riverfront development. It's just the sort of thing that could prove to her father she's a responsible woman, not the reckless kid of old.
The last thing Bobby wants in his life is a sexy single mom with grand ambitions. And Jenna doesn't need any more roller-coaster romances. But in Trinity Harbor, love has a way of defying expectations—ask anyone.