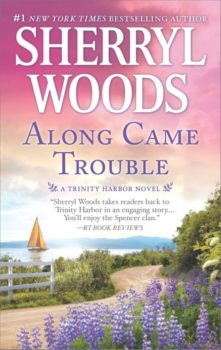 Trinity Harbor #3
February 1, 2009
MIRA Books
Available in: Paperback, Audio, e-Book (reprint)
Along Came Trouble
In Trinity Harbor, a little trouble breathes new life into love…
Sheriff Tucker Spencer has seen some action…but finding an almost-naked woman asleep in his bed leaves him speechless. Especially because this same woman, Mary Elizabeth, broke Tucker's heart six years ago by marrying a charismatic Virginia politician.
Especially since that congressman has been shot dead.
Mary Elizabeth needs Tucker's help. Needs him, period. But along with her return comes all the town gossip about their reunion romance. Even his father, who can't manage his own love life, is determined to "impart his wisdom" regarding theirs.
Tucker's not listening. He just needs to clear Mary Elizabeth's name. But in the end, he'll confront a mystery even more confusing than murder: how the heart makes room for forgiveness and a new start.