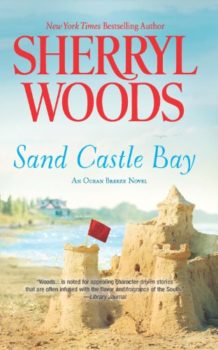 Ocean Breeze #1
March 26, 2013
MIRA Books
Available in: Paperback, e-Book
Sand Castle Bay
New York Times and USA TODAY bestselling author Sherryl Woods takes readers to the North Carolina coast with a new family and her trademark heartfelt emotions.
In a trade-off she's lived to regret, Emily Castle left home years ago to become an interior designer. The youngest of three sisters, Emily desperately wanted to prove herself. Success, though, came at the cost of leaving behind the man she loved.
For Boone Dorsett, losing Emily left his heart shattered, but another woman was waiting in the wings. Now a widower with a young son, Boone has a second chance with Emily when a storm brings her home. But with his former in-laws threatening a custody suit, the stakes of loving her are higher than ever.
Will fate once again separate them—or is the time finally right for these two star-crossed lovers?