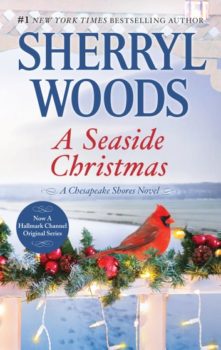 Chesapeake Shores #10
October 28, 2014
MIRA Books
Available in: Paperback, Audio, e-Book
A Seaside Christmas
#1 New York Times bestselling author Sherryl Woods takes you back to Chesapeake Shores for another heartwarming holiday season
As the only child of a single mom, Jenny Collins wanted nothing more than to be part of a large, rambunctious family like the O'Briens. Ironically, though, when her mother married into that family, Jenny found herself feeling more like an outsider than ever.
Now, after years in Nashville as an established songwriter, Jenny's drawn back to Chesapeake Shores to collaborate on a Christmas production…and to make peace with the past. As if that's not challenging enough, Caleb Green, the singer who broke her heart, has followed her to town, determined to win her back.
With the help of a little O'Brien holiday magic, will Jenny and Caleb find a way to make sweet music forever?
Includes bonus story: Santa, Baby (originally published November 2006 in the anthology DASHING THROUGH THE MALL for Harlequin)
When burned-out cop Nick DiAngelo is drafted into playing Santa on the busiest day of the holiday season, the last thing he needs is a missing child and a frantic mom. But in this season of miracles, this chance meeting may be the first step in healing his heart.